Bachelor of Fine Arts
in Film Making
3 Years Degree Program
COURSE OVERVIEW
- Provide students with an understanding of concepts and processes in the field of film making.
- Develop basic and advance skills of pre-production, production and post production in the art of Filmmaking.
"Intensive, industry-ready creative professional program across various disciplines"
FEATURES OF THIS COURSE
Program Designed to fulfil current film industry demands
Industry Expertise Guest Lecture
On Field Experience
Course focused on its practical knowledge along with theoretical philosophy and research of cinema studies and art of film – making
Indoor & Outdoor Shooting skill
Highly Developed Aesthetical environment
First Hand Trial and Error
Practical Orientation
In-depth Knowledge of Photography art
Script – writing, Cinematography, Editing, Direction Workshops will be delivered by Industry Expert
Specialization in Script writing , Film Direction, Cinematography, Audiography and Editing
Learning by practice is our progressive educational approach
Hand on experience of Cinema and Video Camera by Workshop (Red Camera, Sony Camera,Black Magic Camera Workshop)
Different Editing and Colour Correction Software Workshop like FCP, and Davinci Resolve
Our Project – based curriculum provides key knowledge of tools and their techniques
To being as a IIPians, you will get option for elective credits in final year in Script – Writing,Direction, Cinematography, Editing and Colour Correction and Audiography
USP OF THE BFA (Film Making)
2000 sq. meter newly proposed IIP Campus at the heart of Noida Film City at Yamuna Expressway Near Noida International Airport is dedicated to the art of Filmmaking
Apart from Film city of Uttar Pradesh , Punjab Film City is our official Partner
As we all know in upcoming days, Film Market is shifting from Mumbai to Noida Film City, it is a golden opportunity to Filmmaker
IIP itself is a budding University which is dedicated toward the Different forms of art and culture
We feel the responsibility toward conservation of the Indian Art and Culture so our training approach is based on Indian Indology i.e exploration of Indian Literature, Culture, History and Indian Philosophy through art of Cinema.
We promote independent Film-making approach in the Students, so individual can get a chance to produce his or her independent Film
IIP film – making curriculum is designed in consideration of Indian as well as World Cinema industry norms
Creative minds behind the IIP have great Experience of Branding, Advertising and Entrepreneurship
IIP gives each student to grow and develop an entrepreneurial approach.

After Completion of this Course Student will able to : (minimum 75% of attendance required)

Produce and Create their own Film and TV Content
Handle Different format of Cameras (video as well as Cinema Cameras) - Write their own Film and T.VScript
Edit and Color correct the different Film and TV format.
The Curriculum
Semester 1
Course I - Still Photography (Theory & Practical)
1. Introduction basics of contemporary photographic practices and image making techniques.
2. Prepare students to use photography as a tool of Storytelling.
Course II- Introduction to Film Study
Familiarising Student with the Film Theories.Film Language & Cinema's Journey from Primitive to Narrative
Course III : Screen Writing
This is an introductory level course that helps students develop a Sense of Screen writing for audio-visual media.
Semester 3
Course VII- Advanced Still Photography
To encourage students to understand the creative potential of Photography. Student will Learn the technical and aesthetic requirements of professional photography art and learning to work with still images and sound to tell a story. Creating a visual design for an A/V production using still images.
Course VIII-Advanced Digital Filmmaking (Theory & Practical)
Provide students an environment of learning advanced digital filmmaking . Help understand the skills involved in directing fiction and non-fiction films. Instruct student how to deal with actors for different genres and formats.Provide a working knowledge of digital workflows. Help students work with script and more complex narrative strategies. Familiarize them with advanced production skills on high-end equipment .
Course IX- Film Study III
Provide Student with the immense knowledge regarding the Ethics and Aesthetic Of Documentary films. Course deals with the knowledge of Indian and the world documentary historical journey.
Semester 5
Course XIII- Research and Methodology
This course introduces students to research methodologies. This units teach about film studies,familiar student to the debates around popular culture and New media.
Course XIV (Electives)
This Course is designed to elect the specialization in the different genre of filmmaking.
Advanced Screen Writing
Exploring more advanced narrative forms. Create writing techniques for linear and non-linear stories.Developing character, plot, structure and dialogue/sound for final project
Advanced Cinematography (Theory & Practical)
To understand digital workflows and associated technical concepts. To develop advanced skills in lighting and introduce students to more specialized camera and shooting Technique for their final Project.
Advanced Editing (Theory & Practical)
The elective will train students to combine technical process with a creative imagination, teach them how to manage Digital workflows, files and technologies and explore a historical overview of editing styles to emphasize creative, conceptual and technical skills.
Advanced Sound (Theory & Practical)
The course will give a advanced understanding of sound to the students to acquire enough knowledge and expertise to become professional in the field of sound recording and sound designing.
Semester 2
Course IV- Digital Filmmaking (Foundamental) (Theory & Practical)
Under this course students learn to art of Digital Filmmaking. Help Student to enhance creative ways of thinking about the art of Cinema. Develop foundational skills related to different aspects of digital filmmaking. Motivate students to polish their creativity, theory and practice. Explore innovative methods of storytelling . Develop strong production skills that include knowledge of direction, scripting, camerawork, editing and sound.
Course V- Television Production (Foundamental)
The Television Production (Foundational) Course is a course in TV Production. It introduces the students to the basics, approaches of multi-camera production and working in a studio Environnment. To train students to be thinking professionals. To impart hands-on training, utilizing the latest technology.
Course VI – Film Studies II
This Course deals with the History of World Cinema i.e History of World Cinema in Post World War 1 and Post World War 2 Era
Semester 4
Course X- Film Marketing & Distribution
This course deals with the basics of film marketing,Different modes of marketing, Film advertisement,How does film distribution of a film work? What is distribution right? Idea about film market, festivals Film organizations in India and Audience reception.
Course XI -Sound for Media
The course is designed to teach students with the Aesthetics of sound and sound recording techniques. Sound is the important part of the Cinema and other media. By this course student will learn, how to record sound for different situations and spaces. Student are groomed to understand creative use of sound in film and tv.
Course XII-Film Study -IV
This Couse is deal with Film Theories Like Realism,Montage Theory,Semiotics [Christian Metz], Auteur Theory,Feminism in cinema,Queer Theory in Film.
Semester 6
Course XV
This Couse deals in the study of Censorship; Film Censorship,Brief History of Censorship in India,Censorship Laws in India,Debate around censorship,Case study of Censorship:
Course XVI
DIGITAL FILMMAKING ARTS PROJECTS & WORKFLOWS (Practical)This course deals with the Visual Imagination, Set designing and final workflow in Film/TV.
Course XVII
Final Project Submission
The Chair
Celebrated Film maker and Mentor
Sh. N.Chandra
(Films: Tejab. Narsimha. Pratighat. Ankush and many blockbusters)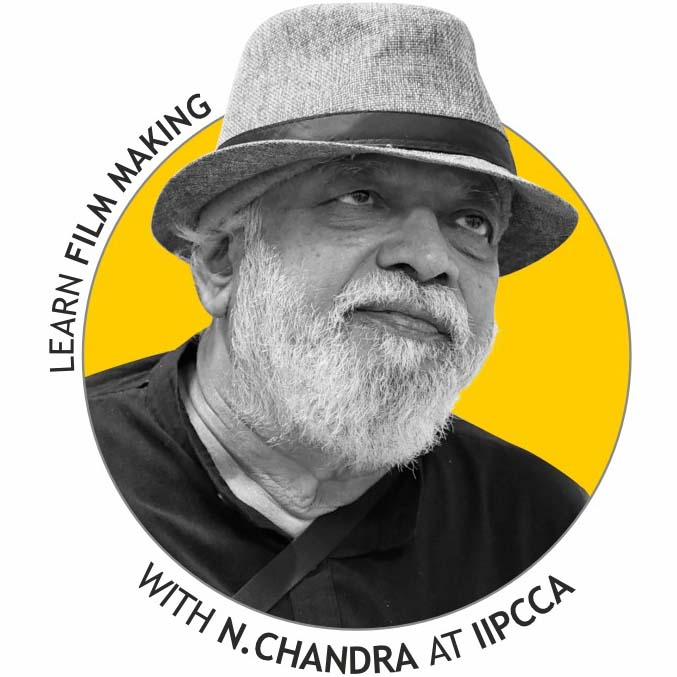 Sh. N. Chandra, a renowned Indian film producer, director, and screenwriter, believes that to make Indian cinema, one must learn from Indian cinema. Chandra's impressive body of work includes gritty and realistic films such as Ankush, Pratighaat, Tezaab, and Narsimha, as well as Style and its sequel Xcuse Me.
Sh. N.Chandra's career in the film industry began as a film editor at Film Centre in Mumbai, where his father worked. He eventually moved up to become an assistant director and associate director, working on projects such as Anil Kapoor's Woh 7 Din. Sh.N.Chandra made his directorial debut with Ankush in 1986, a film about the struggles of unemployed men in Bombay. The film, made on a budget of Rs 12 lakh, went on to gross Rs 95 lakh, becoming a surprise hit of 1986.
In 1987, Sh. N.Chandra directed Pratighaat, a film on the gruesome reality of politics in India, which also highlighted the strong mental make-up of Indian women to the Indian youth. The following year, he directed Tezaab, which effectively launched Madhuri Dixit's career. The film became a box office hit, marking N.Chandra's third consecutive success after Ankush and Pratighaat.
Today, Sh. N.Chandra chairs the Film making department of IIP Institute of Cultural and Creative Arts, Noida, where he aims to educate aspiring filmmakers about the intricacies of cinema and how to achieve success in the industry. With his wealth of experience and knowledge, Chandra is a valuable asset to the institute, and his teachings will undoubtedly benefit the next generation of Indian filmmakers.