Diploma in Digital Cinematography
1 Year Diploma Program
COURSE OVERVIEW
The Diploma in Digital Cinematography course builds essential and practical skills to prepare you for a role of Cinematographer/Director of Photography (DOP). This course is defining an art of visual aesthetics in which we can explore a state of cinematographically attitude. We as an IIP delivers a comprehensive hand – on instruction with practical exercise in all essentials of film and television production and academic structuralism including Anatomy of DSLR and Video Camera, Controlling of Motion Picture, Arrangement of Framing, Film Speed, Cinematographically Theoretical approaches towards visual making, Camera Movements, Color Filters, Usage of Cinema Lens. Students will get inclusion of different quality and characteristics of lighting.
Whole course is divided into Foundation, Advance and Practical – Project submission alongside with fundamentals of Language of Cinematography for students. Cinematography is about understanding, explore and using aesthetical sensibility of DOP in which we seek individualistic behavior in students and learn how to use camera, lighting techniques to tell a feelings, expressions and stories, whether it is scripted for cinema, TV, Short Films or Independent Cinema. On the other hand, this program is about more than technology, in IIP, we work on a deeper understanding of historical, aesthetical and out – of – box ways of expressionism for storytelling and the moving image to communicate something meaningful and entertaining to an audience.
This course has been crafted to provide an intensive knowledge towards the understanding of in-depth cinematography and filmmaking .This course focused on day to day operation of the Motion Picture Cinematography Process of Short films, Documentary and commercial and deliver the expert guidance on above. Please note, this course is offered educational help and as a tool of path – making, in the end, student will have to perform and deliver their assignments, which will prove their skill and attitude in real world.
Program Aims
- Provide students with an understanding of concepts and processes in the field of film making and Cinematography
- Develop basic and advance skills of pre-production, production and post-production in context of Cinematography
"70% knowledge of Cinematography
where 30% is covered by writing skills,
Direction and Editing"
Feature of this course
Program Designed to fulfil current film industry demands
Industry Expertise Guest Lecture
On Field Experience
Course focused on its practical knowledge along with theoretical philosophy of the Art of Cinematography
Indoor & Outdoor Shooting skill
Highly Developed Aesthetical environment
First Hand Trial and Error
Practical Orientation
In-depth Knowledge of Cinematography art
Cinematography, Editing Workshops will be delivered by Industry Expert
Learning by practice is our progressive educational approach
Hand on experience of Cinema and Video Camera by Workshop (RedCamera, Sony Camera, Black Magic Camera and Canon Camera Workshops)
Different Editing and Colour Correction Software Workshop like FCP, and Davinci Resolve
Our Project – based curriculum provides key knowledge of tools and their techniques
USP of the Diploma in Cinematography
2000 sq. meter newly proposed IIP Campus at the heart of Noida Film City at Yamuna Expressway Near Noida International Airport is dedicated to the art of Cinematography and Filmmaking
Apart from Film city of Uttar Pradesh , Punjab Film City is our official Partner
As we all know in upcoming days, Film Market is shifting from Mumbai to Noida Film City, it is a golden opportunity to Filmmaker
IIP itself is a budding University which is dedicated toward the Different forms of art and culture.
After Completion of this Course Student will able to
- Produce and Create their own Film and TV Content
- Handle Different format of Cameras (video as well as Cinema Cameras)
- Edit and Color correct the different Film and TV format.
The Curriculum
Film Studies /Direction Understanding the Basics of Direction and Film History
This module will make a dedicated attempt at introducing the medium of cinema from a theoretical and critical perspective. Through this module, the students will get to understand the various elements of cinema and will be introduced to the various film theories. In very simple terms, students will comprehend cinema as a leading art form through this module. Additionally, this module will also introduce the students to the digital and technical aspects of cinema.
Script writing /Film criticism
In this Module Student will be taught Script writing (or screenwriting) as the process of writing stories in the screenplay medium. They will learn the movement, actions, expression and dialogue of the characters in screenplay, in screenplay format. The process of writing a novel, a poem, or essay, is entirely different from script writing. In order to express yourself effectively for the screen, particular formatting methods are required. Screenplay format is used to express the story visually. Scriptwriters or screenwriters write for film, television, video games, and now even online web series. Script writing can be done for hire Externalize a character's internal motivations
Tell a story visually
Use proper screenplay format
Cinematography / Production Design
Camera basics, Hands-on operation of 5D, Red Epic,Frame composition. This module will try to throw light on two of the most important aspects of digital filmmaking as a composite art form – cinematography and production design. As one can understand, a film cannot communicate its meaning without showing what it is supposed to show. Cinematography and production design take care of this very important aspect. Both these elements decide what is there on the screen and what is not there on the screen. While introducing these two aspects of filmmaking, this module will also try to make the learners industry-ready.
Editing /Sound Design
Understanding the basics Editing .Both Theoretical & Practical . This teaches the student On its most fundamental level, film editing is an art, it will teach the technique and practice of assembling shots into a coherent sequence. The job of an editor is not simply to mechanically put pieces of a film together, cut off film slates or edit dialogue scenes, In sound design the student will learn the process of recording, acquiring, manipulating or generating audio elements. It is employed in a variety of disciplines including filmmaking, television production, theatre, sound recording and reproduction, live performance, sound art, post-production. Students will also learn the manipulation of previously composed or recorded audio, such as music and sound effects. In some instances it may also involve the composition or recording of audio to create a desired effect or mood.
Pre-production
Scheduling, Planning, Hiring Equipment ,This module will prepare a student for a film or broadcast program before full-scale production begins. Elements of video production such as the script, casting, location scouting, equipment and crew, and the shot list all happen during pre-production. Pre-pro is the planning stage.
Shooting
An Overview of various aspects in film making, Film Shooting, Art Direction/ Costume Design.
The Chair
Celebrated Film maker and Mentor
Sh. N.Chandra
(Films: Tejab. Narsimha. Pratighat. Ankush and many blockbusters)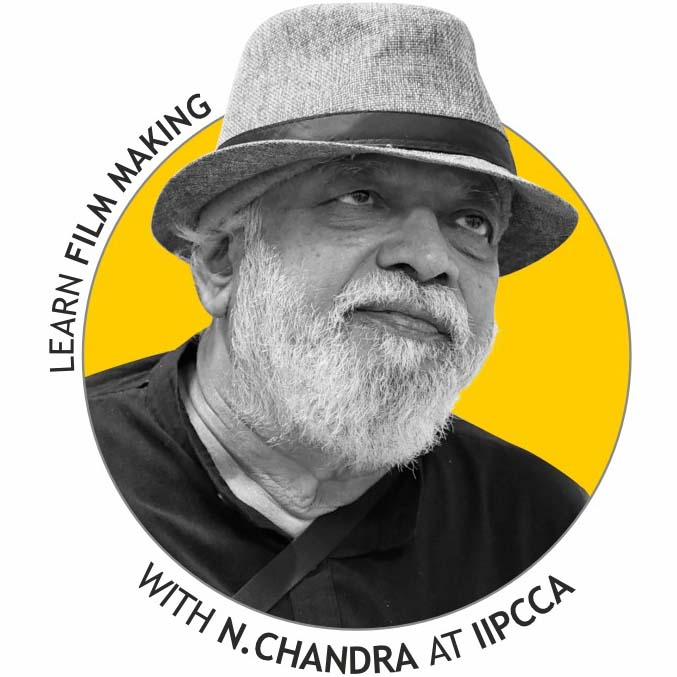 Sh. N. Chandra, a renowned Indian film producer, director, and screenwriter, believes that to make Indian cinema, one must learn from Indian cinema. Chandra's impressive body of work includes gritty and realistic films such as Ankush, Pratighaat, Tezaab, and Narsimha, as well as Style and its sequel Xcuse Me.
Sh. N.Chandra's career in the film industry began as a film editor at Film Centre in Mumbai, where his father worked. He eventually moved up to become an assistant director and associate director, working on projects such as Anil Kapoor's Woh 7 Din. Sh.N.Chandra made his directorial debut with Ankush in 1986, a film about the struggles of unemployed men in Bombay. The film, made on a budget of Rs 12 lakh, went on to gross Rs 95 lakh, becoming a surprise hit of 1986.
In 1987, Sh. N.Chandra directed Pratighaat, a film on the gruesome reality of politics in India, which also highlighted the strong mental make-up of Indian women to the Indian youth. The following year, he directed Tezaab, which effectively launched Madhuri Dixit's career. The film became a box office hit, marking N.Chandra's third consecutive success after Ankush and Pratighaat.
Today, Sh. N.Chandra chairs the Film making department of IIP Institute of Cultural and Creative Arts, Noida, where he aims to educate aspiring filmmakers about the intricacies of cinema and how to achieve success in the industry. With his wealth of experience and knowledge, Chandra is a valuable asset to the institute, and his teachings will undoubtedly benefit the next generation of Indian filmmakers.