Dual Diploma in Photography
Regular, Hybrid and Online Photography Learning Program
COURSE OVERVIEW
In association with faculty of fine arts of a IIP, IIP confers Diploma in Professional Photography as well as a Dual Diploma in Photography Course (Photography) in duration of just a year. So, if you are serious about taking photography as a serious profession, then this is the program, just for you..!! Enroll Now.
"Professional study program that lays strong foundation for specialisation"
IIP has a 100% Placement Record... Join the Industry Leaders Now!
Only 16 students in a Batch | One on One Learning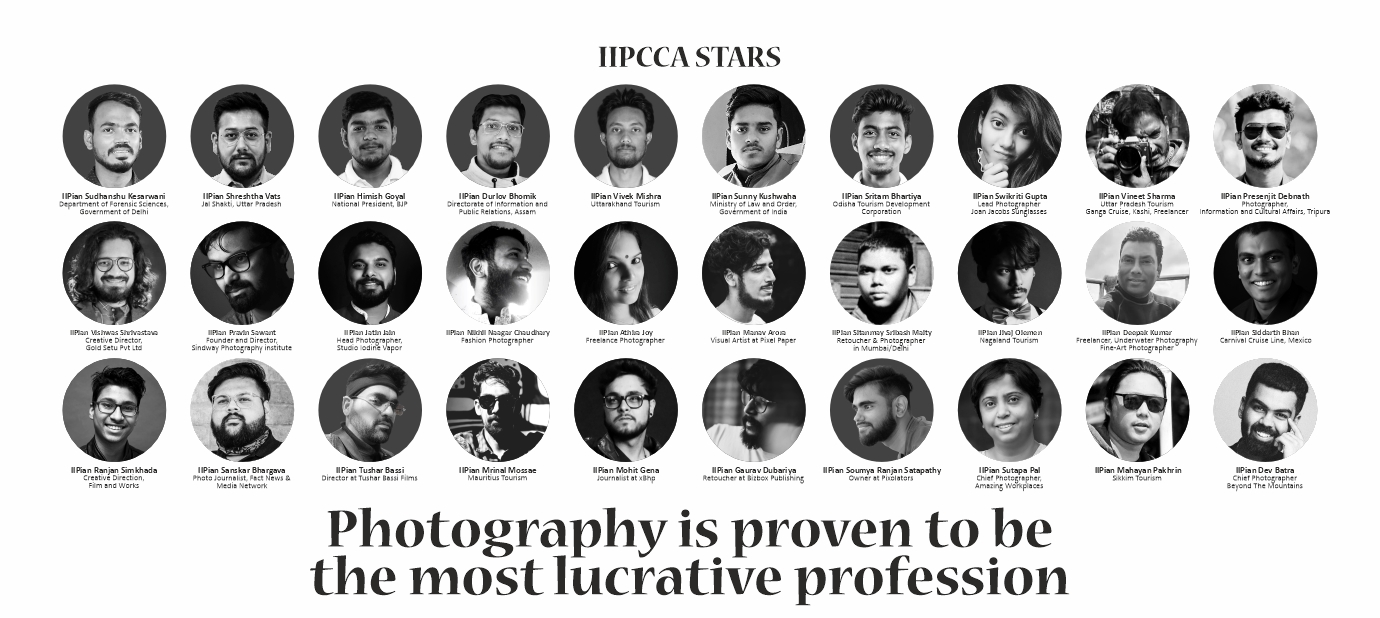 The Curriculum
The one-year Dual Diploma in Photography Course is divided into two semesters. With each semester is designed to give students knowledge ranging from basics to advanced photography techniques to develop a strong portfolio. The students are taken on various mentored field trips so that real environment photography gets polished.
In semester one, the students learn the fundamentals of the camera and masters the techniques of image making. We start from the basic handling of the camera and move step by step towards polishing their skills for better photo compositions. The students also learn the art of photo editing using various image manipulation soft wares.
Semester two is designed to make students aware of different specializations in photography. The students get extensive exposure of various photography streams like Studio, Fashion and Wildlife etc. and choose his/her specialization. Students also get in-hand training from leading photographers from India and abroad. Apart from working on portfolio within the institute, students are provided with internships with leading organizations.
1. Visual Studies Art Appreciation
Learning arts best done by looking at the work of masters, in this module, students learn the art of reading and analyzing images. Students get the exposure to various art forms and masters of photography and the art world. Students are given projects and presentations to improve their knowledge and enhance their vision.
2. Photography Techniques
In this module, students learn the basics of photographic compositions and master how to handle their cameras. Students are given extensive knowledge of the technicalities like shutter speed, aperture and ISO etc. Students will master these and other technicalities to shoot picture perfect frames.
3. Basic Image Editing Processing
In this module, students are given in depth knowledge of various image-editing softwares like Photoshop, Lightroom and Bridge etc. The students also learn the art of image manipulation like dodging and burning, black and white conversion, skin retouching etc. Students will get exposure of how to edit RAW files and convert then into final JPEG files.
4. Image Printing, Presentation Sharing Techniques
Image printing is a very important process for a photographer, as showcasing of work requires eye-catching presentation. In this module, students learn various techniques of printing from the old processes like dark room printing to the new age digital printing. Students also learn the art of bookmaking, magazine printing, framing for an exhibition etc. The intense knowledge of printing gives our students edge for making professional portfolios.
5. CAMPAIGN + VIVA
6. Studio Photography
Major commercial photography happens inside the studio. We give our students extensive training in the studio environment to develop their vision towards product, portraiture and fashion photography. Students learn how to setup their individual studios and implement different kind of shoots with various equipments. Specialized workshops on fashion photography are also arranged.
7. Advanced Photography Practice
Students are given knowledge of various creative techniques used in photography. Students get exposure to documentary, travel and wildlife photography. Various field trips are organized to give the students apt knowledge of these fields.
8. Film Making with Camera (DSLR)
If you own a DSLR camera, you already own a powerful filmmaking tool. In this part of course we will cover the core principles of capturing video with your DSLR. Through hands-on demos - including how to create compelling video interviews Our Mentor's will guide you through the core techniques of DSLR filmmaking. You'll learn how to apply the compositional skills of still photography to taking video. You'll also learn about how to navigate the video-capturing features of your DSLR, choose the right gear for your filmmaking needs, and incorporate audio into your shoots. From framing shots to producing simple projects to spatial relationships, the skills you gain in this course will leave you ready and inspired to create high quality, engaging film projects.
9. Self-Branding and Commercials of Photography
A photographer is his/her best marketer. This module covers all the aspects related to setting up and expanding the business for a photographer.
10. Specialization/Final Portfolio
A well-made portfolio for a photographer is a ladder for success. We aim to impart our full knowledge to our students to bring out the best in them. Students start developing their respective portfolios since the very beginning of the course. Mentors help the students to portray their best skills in the portfolio.
11. INTERNSHIP
We at IIP UPIDR are dedicated to provide our students with on the job training with various brands. Even before passing out from the institute our students get the knowledge of working in a big corporate and become ready to become the next leaders in the market.
12. FINAL PROJECT SUBMISSION
The students, in order to complete their diploma will have to submit their portfolio based on the specialization the student chooses to pursue.
The Chair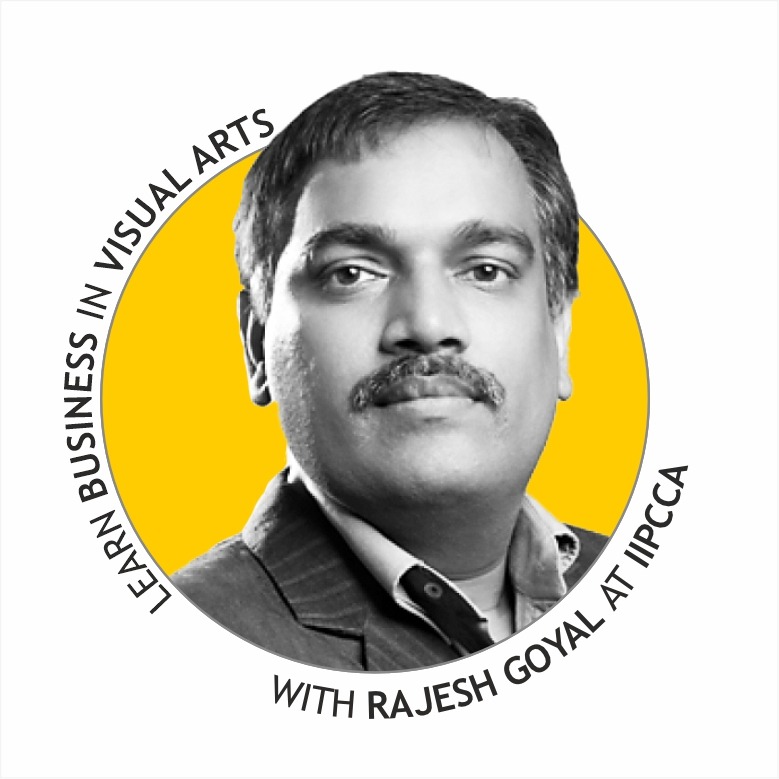 "Photography is my PASSION. I pursue it with a PURPOSE and have built its foundation on PRINCIPLES." Today, there's a world waiting to be explored, capture and created beyond limits through the photography. A world with never-ending boundaries that holds countless possibilities and opens up zillions of photography opportunities as a form of fine art. And with photography fast emerging as an important subject of learning, the art of photography is emerging as an instrument of change, a melting pot of thoughts and life-changing ideas.One that can effectively document the changing facets of the society and its thinking process like no other. And if you love to embrace the world of photography to hone your learning graph, there's a lot that will surely open up as possibilities. You can mould yourself as a photography hobbyist, an ardent photographer, a passionate photographer or a full fledged professional successful photographer. But before you choose what to become, everything depends on your instincts, behavior, dedication, devotion, determination and hard work to realize the goal of becoming a photographer.
"Life is a lot more enriched with myriad experiences but my passion for photography has rewarded me with a new perspective to look at the life around me. It is my mission to impart this knowledge to the upcoming ardent photographers; aiding them to look at life with a bold, new perspective."