Master of Fine Arts - Photography
2 Years, Regular & Hybrid Photography Learning Program
COURSE OVERVIEW
Four Semester Breakdown – 2 Year Programme
State-of-the-Art Facilities:
Indian Institute of Photography boasts the best equipment and facilities offered by any Photography school. This includes state-of-the-art cameras, lighting and other studio equipment, digital darkrooms/ digital imaging a variety of equipment accessories, and specialized working studios.
The wide range of equipment and resources available to the student of Photography at Indian Institute of Photography reflects the breadth of the curriculum that includes traditional photography and digital photography technology.
Professional Faculty:
The School of Photography links students with mentors who are the photographers and academics in their field. We offer a prestigious faculty, legendary guest faculty.
Industry Relationships:
Every semester, students benefit from lectures and artist presentations from top photographers from India and South Asia, and the school helps students find internships with the top photographers in the field. In addition, many classes feature visits to leading photography studios.
"Pioneering, process-oriented, cutting edge, new age visual storytelling"
The Curriculum
1st Semester
IIP presents the Master's program with an intensely personal approach, of course, to do a creative and stimulating study through including critical, aesthetical, lens-based practice. Master program based on the practical framework, so students enable to examine, interrogate, and reflect on their nature, role, and psychological sensory towards artist–based – decision making and enhance their chosen practice. Student needs to understand the value of idealization, materialism, and process-based – behaviour and IIP encourage every thinking of diversity. It doesn't matter where are you coming from and what experience do you have? In this course, major concerns about freakily expressing your ideas and making yourself more diversified in thinking, making, and acknowledging your potential through ideas, thoughts, concepts, themes, exploration, collaborative working, exchanging the ideas,and exploring new and vital concepts.
We believe in making art not judging art. Each thought of the student is highly resonating and encouraging. This course is not for fixedness, it is about Opening Your Personality toward challenging work that vibrates and defined your key concerns in aesthetics, research, stories, and dialogue make.
We welcome applications from those who want to bring about change in the Photography Industry, who want to suggest odd, bad, itchy, and personal thoughts before inspiring from outside of the world.
Subject Name
1. Historical Philosophy in Photography
2. Technical Philosophy in Photography
3. Visual Studies in Photography
2nd Semester
Subject Name
1. Historical Reading & Theoretical Approaches
2. Photography & Documentation
3. Documentary & Photo Journalism
4. Practical Submission & Viva Voice
Learning Output of the Course
In this module, the student understands the visual collection of memories, and how can the sentimental and cherished value of documentation played a vital role in photography. From the perspective of an artist, photography shows the world and life in an entirely different dimension. Students observe, select their findings, collect, design, and present the personal aspects of photography. Photo Archive, Re Photography, Photo Book, Handmade Art, and Zine will be the major operational tool of this module. So, students explore the documentation and photography connection and how it is providing a glimpse of common people and the tendency for historiography to emphasize the great feeling of nostalgia. This module is based on experiences that varied widely for people depending on where they live.
3rd Semester
Subject Name
1. Documentary & Photo – Journalism – II
2. Photography Discourse
3. Practical Project
Learning Output of the Course
This module is the most creative and allows students through reading, write, and systematic structuring of the Art-Based – Research Steps. Students will learn about Dissertations, Research Writing,Research methods and Methodologies, Publication, and How to approach their work for funding programs. Students will connect with their mentors so They start to make their portfolio,clarify their vision, generate their final project, and understand the Road Map and Writing of Artistic Statement.
4th Semester
Subject Name
1. Dissertation
2. Viva Voce
3. Final Project
4. Exhibition
This is not a module or subject. It is the celebration of time which proves this diversification of whole 2 years. Students will do an exhibition in this module.
Studio Practice
The foundation of the program, studio practice is a seminar in which students integrate what they are experiencing and learning into their own creative work. Through ongoing studio assignments, group critiques, and one-on-one meetings with faculty, students develop their photographic work and define a personal approach to their practice. A final exhibition of original work, presented at the end of the second year, is required for graduation.
Critical Study
In these topical seminars, students focus on theoretical and critical issues in the history of photography. Working with historians, photographers, and Indian Institute of Photography curatorial staff, students engage in research, writing, and curatorial activities. Students' own writing charts the development of their ideas about photography in relation to the work of other photographers. A written thesis, which serves as an anthology of two years of critical coursework and professional practice, is required for graduation.
The Chair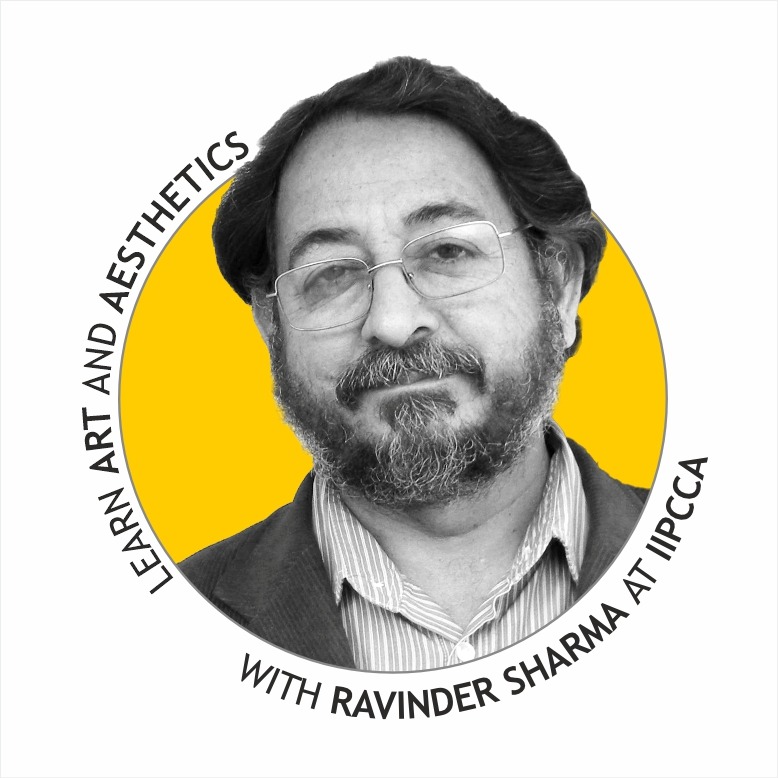 "Man's faith enables him to see His myriad forms in the light of his love for Him. His prayers in words and visuals, in hues and harmonies, are the soul of this earth. This exhibition embodies my soul-felt love for the Great God of Hindu Trinity, the source of all virtue and vitality. This art is the voice of my heart singing the song of His love and grace."
Ravinder Kumar Sharma weaved the dream of teaching art where people of all ages come together to learn & amp; start their journey into art. A renowned artist & amp; art educationist of India, Ravinder Kumar Sharma has been a mentor to a multitude of art enthusiasts all over the globe. His mission is to educate artists and creative professionals to be responsible contributors to society.
Our faculty under him comprises of experienced and versatile professionals from both academia and industry resulting in a rare blend of experience and expertise, indigenity and universality. Our curriculum takes into account the importance of both theory and practice, and thus promotes deep disciplinary knowledge along with sound technical know-how and practical skills.